Online Activity Booking - Colin's Horseback Africa

If you are experiencing difficulty please contact us at
Tel no: +27 (0)82 789 9002 or email us at horsebackafrica@colin.co.za
Return to our site
Wildlife Education Tours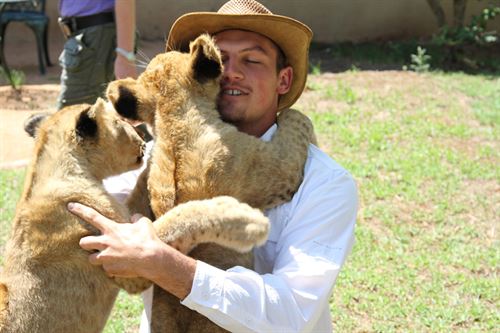 Pick a Date
- date unavailable
Pick a Time
Duration: 2.5 hours
Price per Person from: R880.00 (Rate applicable per person with inclusions as stipulated below (applicable to relevant year))
Price per Child from: R880.00 (Children under 12 years old will not be permitted on the 'Walking with Lions' part of the tour, but they are welcome to join the rest of the tour at the standard tour price.)
The Wildlife Education Tours is an interactive and educational tour. By teaching people about lions, servals, meercats, snakes or any other animal within the reserve, we are able to create a greater awareness of the importance of their conservation.
Inclusions: Welcome Coffee/Tea, free transfer to and from the Hatfield Gautrain station at specific times (early morning and late afternoon transfers- please call for actual times) for a minimum of three guests.
Exclusions: A delicious lunch in the Wild Horse restaurant will finish off your experience in a wonderful way. This however, is NOT included in the price.
Bring: Camera & Sunscreen / Hat
If you wish to also book for other fun activities simultaneously, please click here