Online Tickets - Middelburg Tourist Info Centre (Middelburg Chamber of Commerce)

If you are experiencing difficulty please contact us at
Tel no: 013 243 2253 or email us at secretary@middelburginfo.com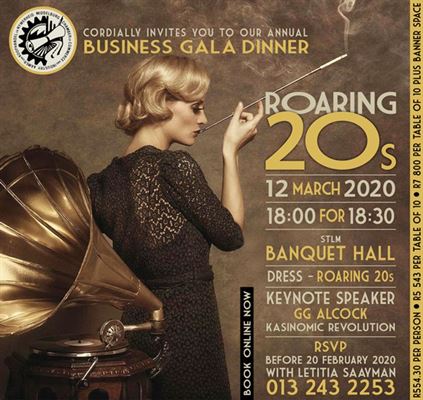 MCCI 117th AGM and Banquet
Age restriction 18
12/03/2020 18:00-23:00
Per person (300 avail) - R554.30
Table Only (19 avail) - R5543.30
Table with own Banner Sponsor (19 avail) - R7800.00
Artists: GG Alcock - Township Economy
Middelburg Chamber of Commerce and Industry will be having there 117th AGM and Banquet on the 12th of March.
It is an opportunity to enjoy an evening with different business owners and of there staff. We are look to host 450 - 500 guest on this evening.
The great gatsby and the Roaring 20's Dress up and enjoy..